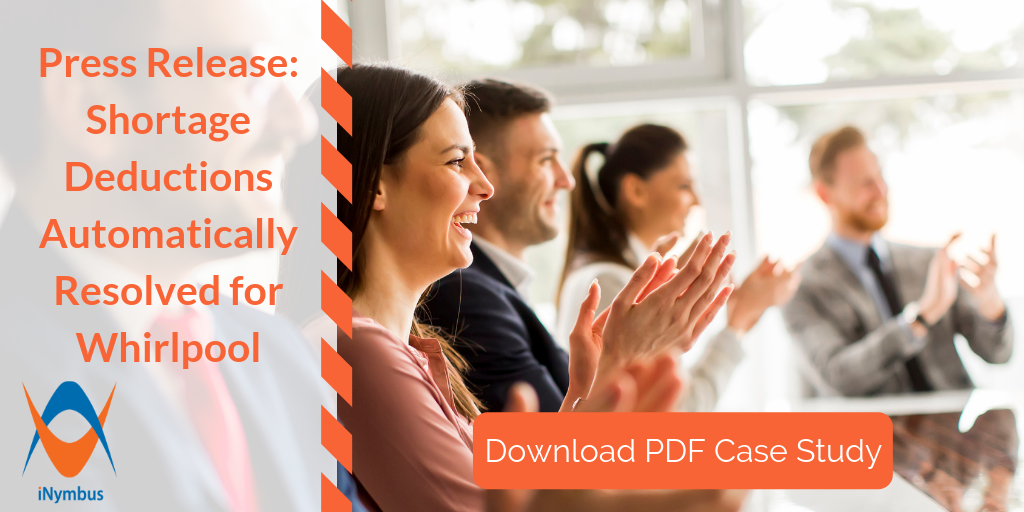 iNymbus today released a Case Study for manufacturers, suppliers, and distributors detailing how Whirlpool successfully reclaimed hundreds of manpower hours with deduction automation.
The case study details how the appliance giant is successfully using Robotic Process Automation (RPA) to dispute shortage deductions from retail partners including Amazon, Lowes, and Home Depot.
Whirlpool faced problems created by partners including Amazon, Lowes, Home Depot, Best Buy, Bed, Bath, & Beyond by continually needing to dispute endless shortage deductions received from the retailers. Other manufacturers, suppliers, and distributors are likely familiar with the unique challenges chargebacks and deductions present, including dealing with the super-efficient rate and volume large retailers apply deductions and chargebacks and the time it takes to resolve them.
Says Sreedhar Narahari, CEO of iNymbus and creator of DeductionsXChange, "On average, each of the 16 Credit Reps at Whirlpool were spending 10-15 hours a week disputing shortage deductions. With multiple large retail partners, each with their own dispute requirements and portals, the highly customizable 'deductions automation as a service' solution iNymbus provides was the fix Whirlpool needed to cut down on their deduction processing time, efforts, and costs."
Read the full press release here.
To learn more about how iNymbus is automatically resolving shortage deductions for several of Whirlpool's largest retail partners, including Amazon, Lowes, and Home Depot, download the case study,