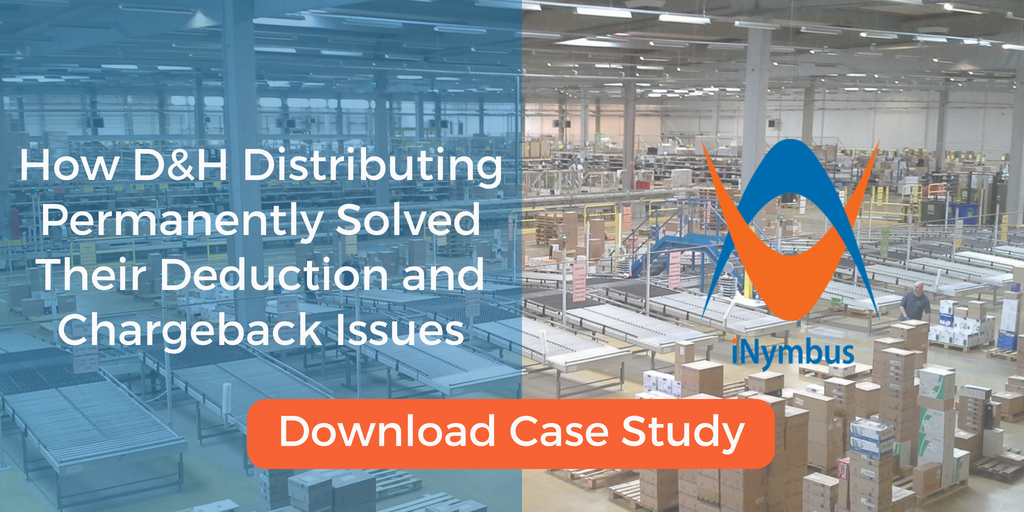 Recently, iNymbus interviewed Tony Warfield, Vice President of Credit Services and Heather Reso, Senior Director of Credit Services at D&H Distributing. We asked and they answered ... Why iNymbus to permanently solve their deduction and chargeback issues?
Editor's Note: This blog post was orignally posted in 2018 and the frustration with chargebacks and deductions is more relevant as ever. Click here to learn more.
Q: Before you had automation to process deductions and chargebacks, what was the day-to-day or triggering event that made you say, "You know, maybe there's a better way?"
Tony Warfield: You may have heard of a company called Walmart. Obviously the volumes are incredibly high with the number of suppliers they have, and they are incredibly complex. They would email us these freight issues, and we would basically take data from the email, typing into one system, inputting into another system, and typing into another system. We started looking for some sort of simple, automated solution to manage the kind of repetitive nature of deductions.
Heather Reso: Yes, Walmart. It was that particular customer. We'd get an email notification, and it went from about 500 a month to 3,000 a month in about two months' time. They had changed something in their process or system, and we couldn't keep up. We had two full-time people working on it, as well as the whole team working overtime, before work, after work, and Saturdays, just to keep up with that volume. And if we don't get responses from the carriers in a certain amount of time, Walmart would deny the claim and not pay us back.
Q: To solve this problem, how did you go about trying to find vendors to consider?
TW: Well two of them we were already engaged with. One was a company that was a full service AR and cash app, almost a VRP type solution for AR and credit. They offered to create a tool for us, and it turned out to be very, very pricey. So we scratched them off the list. The second company we used for proof of delivery and some other things. They again offered to create this sort of thing, but again it was a larger investment. It's tough to get ROI when you can hire temps for data entry, and moving paperwork around. It just didn't make sense.
HR: We're distributors with a very lean margin, only about 3%, so cost is really a big factor for us. It had to be something that made sense to our business model.
Q: In what way did you find the iNymbus solution to be different from the competitors?
In addition to this case study, we are hosting an upcoming webinar session on this topic with Supplier Community, a resource center for suppliers, entitled "How to Automate Shipping Carrier Freight Claims Processing."
The session will address the problems suppliers, manufacturers, and distributors face dealing with shipping carrier freight claims deductions. Attendees will learn why traditional solutions such as staff augmentation, temporary workers, outsourcing, and software packages simply do not work as a means to control tedious and endless claims from carriers like FedEx, UPS, and others. Utilizing Robotic Process Automation (RPA) to automatically dispute and resolve shipper freight claims is the only real, longterm solution. Imagine processing more than 25,000 shipping claims per day, without having to do anything!