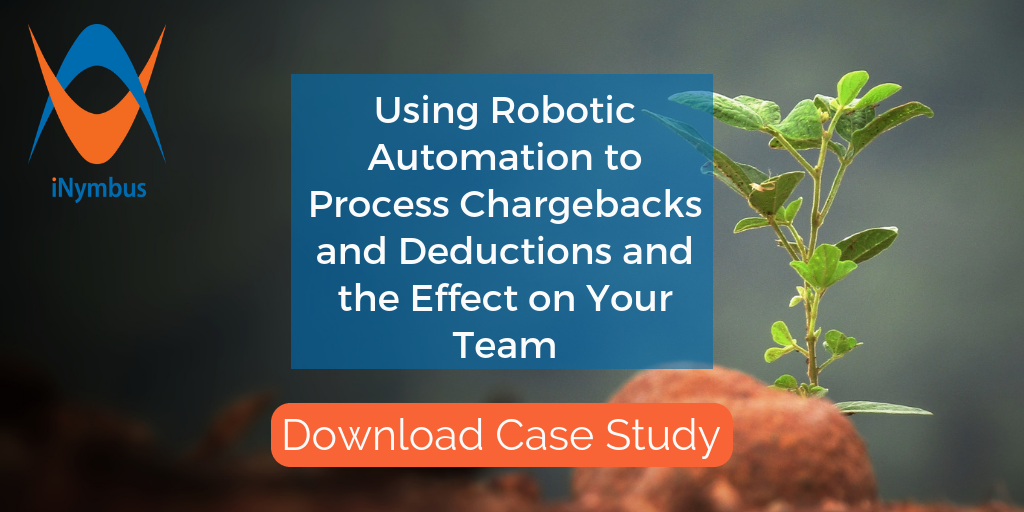 After you take into consideration implementation costs and ongoing robot maintenance, the costs of using robotic automation to process and resolve chargebacks and deductions can be estimated at approximately 1/6 the cost of a full-time employee. You may be thinking, "That's great, but what happens to the people who were previously doing the work of robots?"
Editor's Note: This blog post was originally posted in 2018 and the frustration with chargebacks and deductions is more relevant as ever. Click here to learn more.
What if your department was able to transform into a strategic team, powering the company forward rather than being a perceived expense drain?
One iNymbus customer, D&H Distributing, has found immense value in keeping their expenses flat and the ability to reallocate resources:
"We can reallocate headcount now, and use staff in another area that needs attention outside of (the chargeback and deduction) world. And as we grow, we don't have to ADD bodies. We can make to work for us." - D&H Distributing
In fact, D&H Distributing is up to 3 people who had previously been primarily focused on processing chargebacks and deductions, who are now adding value elsewhere. That's 6,000 human manpower hours doing something more productive than just pushing paper!
"It's actually the ability that we haven't had to add staff, we reallocated capable folks into more valuable, more enduring paths, like the root cause analysis to help reduce the deductions. All we were doing was plugging holes, now (robots) plug them automatically. It gives our staff the ability to figure out where those holes are coming from in the first place." - D&H Distributing
Another less expected plus is the opportunity to enter into new markets. At D&H Distributing, "It allows us to engage in customer distribution that we generally try to shy away from, because they are known for being troublesome. Particularly in the segment of grocery and drug stores, that are incredibly difficult to deal with. When we have this kind of tool in our arsenal, that allows us to engage with a different customer."
Standing up to bullies like Amazon and freeing employees of the daunting pile of chargebacks and deductions is also pretty heroic. Saving staff from the frustrating nature of processing chargebacks and freeing them to focus on more high-level tasks has also helped boost morale at D&H: "Not so fast Amazon. We've got our own little robot army here, and we are going to fight you every step of the way."
D&H is only just getting started. Check out our case study for more!