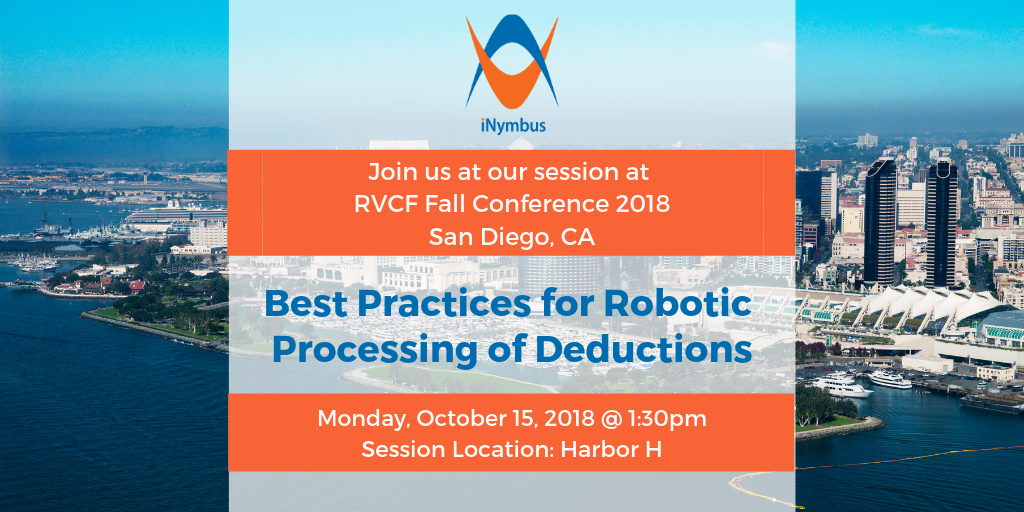 Businesses are hearing more and more about robotics. Many are figuring out how to use robotic automation to their benefit, and some have implemented them with great success.
Editor's Note: Thought this blog post was originally posted in 2018 , the insights provided are still very relavant to this day.. Click here to learn more.

We are looking forward to presenting with D&H Distributing at the RVCF 2018 Fall Conference in San Diego. From Walmart alone, D&H Distributing received thousands of freight claims a month, each taking 7-10 minutes to manually process. With robotics, they now process ~500 a day! Join us as we share the best practices learned and refined in last fours years of using robotics to dispute and resolve deductions & chargebacks.
Best Practices for Robotic Processing of Deductions
Monday, October 15, 2018 1:30pm - 2:20pm

Presenters: Rohit Patel, Credit & Collections Consultant for iNymbus and


Heather Reso, Senior Director of Credit Services, D&H Distributing

Session Location: Manchester Grand Hyatt San Diego, Harbor H
We'll see you in San Diego!
And, as a sneak peek, read our Case Study from D&H who fought chargebacks and WON!