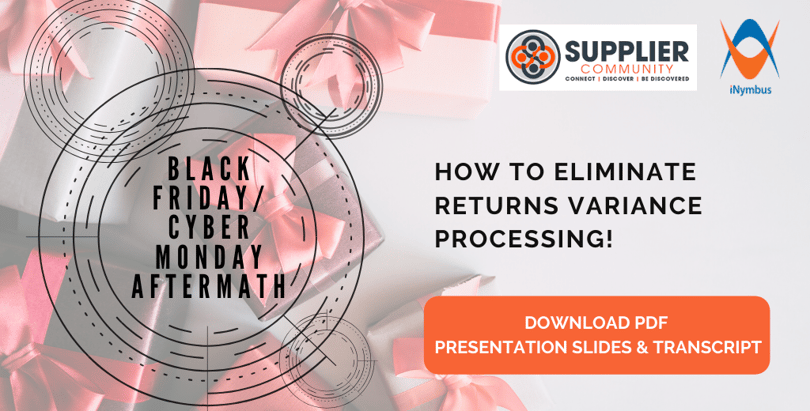 A few days ago, Cyber Monday 2019 was the biggest shopping day in Amazon history. Across the internet, sales records were smashed with close to 10 billion dollars spent online by U.S. consumers. While good news for retailers and their suppliers and distributors, this come with massive levels of returned goods. In fact, 77% of consumers say they plan to return a portion of their holiday gifts. What follows? Retailers taking back revenue from their supplier, manufacturer, and distributing partners on returns via their automated processes.
And of course this means the good people of A/R are stuck with mountains of data and trying to determine if the retailers returned goods are at the right price, quantity, or even item. They are forced to dispute these returns, and often one-by-one.

This is why we presented a webinar with Supplier Community the very day after Cyber Monday, explaining why traditional solutions such as investing in systems and extra staff won't solve your returns variance processing problems. Calculating returns variances automatically is a superior solution and entirely achievable, during and following the holidays, and all year long. Watch the replay below to learn how, or read the transcript below!
SPEAKER: Rohit Patel, Credit and Collections Consultant
Welcome to our Black Friday / Cyber Monday edition of the fall webinar series for Supplier Community.
'Tis the season. Last Friday was Black Friday and yesterday Cyber Monday. The sales yesterday alone broke records and hit close to 10 billion. There is a lot of shopping that is going on this time of year.
58% of people plan to return or exchange unwanted gifts within the first month of receiving. So often suppliers are not equipped and ready to handle the high volume of returns that come back. And we'll talk about the supply chain of returns and how that is impacted.
On the forward logistics, or the product supply chain, suppliers do everything possible to make sure that product is delivered on time, that it's in pristine condition, and it's on the shelves for the consumers, in hopes it flows easily off. Suppliers do everything to make sure there's no early or late deliveries, so the information flow is back and forth. Once the sale is made, definitely money will flow back depending upon the terms extended. Suppliers try to make it as clean as possible on the forward logistics.
On the reverse logistics side, most retailers want to get returned product back to the Supplier as quickly as possible. As that product is coming back, retailers are trying to sell more, but they have no incentive to package product well. They have no incentive to make sure that that product returned is the suppliers, they just want to get it off their shelves because it carries an inventory cost on their side. It's clogging up their warehouses or their stores. The quickest thing that they want to do is get that return credit and that product back to the supplier.
However, often missing items come back and are not packaged well. You may even get a competitor's product. Pricing is often an issue because if they use the FIFO or LIFO methods, depending upon how products are priced, and often this time of year there are deep discounts. So a supplier may have sold a retailer product months ago at a price and then the retailer wants to return the discounted product at a higher price, plus handling fees, shipping fees, or with a wrong return merchandise authorization (RPA), even if there is no RMA. Reverse logistics can be a nightmare.
If and when the product comes back, this is just a high level process flow of a returns variance. This is simplifying things. Ideally you issue an RMA to the retailer, and it comes back to you correctly priced. What really happens is there's a lot of research involved. Often you have to go to your ERP system, like SAP or Oracle, or you have to go to the retailer's portal to see what was actually returned. You have to track the shipments coming back and look at the pricing data, so you are gathering a lot of information just for a simple return.
Once you pull that data, you've got to find the discrepancy. Who's at fault? As we know, retail is a never fault. The burden is upon the supplier to prove that they did not return the product in the condition it should have been returned, or that it was priced incorrectly. It takes time.
What types of return variances are there? There could be a single return. There could be multiple various analysis done on a quarterly basis. Depending upon your agreements with your retailers, those take time. So if it's a single return one by one, and if there's a 20% increase in sales, there's probably a 20% increase in your volume. Therefore you're going to have a 20% increase in those single volume returns. If you do quarterly variance analysis, what will happen is you're going to have to gather that data over a period of time. Often shipments are going to overlap, so you're going to have to make some exceptions. It does get complicated and it is very cumbersome and very messy to organize if you don't have the correct systems in place.
There can be hundreds of thousands of transactions, especially this time of year, and you do want to take advantage of the holiday season. And often what will happen is in the following quarter you will fall. 30 days after the quarter, you'll start to see return variances. And it is very time consuming for your team to go through.
Most companies have some rudimentary form of automation. They'll use Excel, pivot files, or even write macros to help them. But around the holidays, there's an extra altering volume.
So what is the best way to attack this? Instead of me just giving you the answers I'm just going to go through a true life case study where iNymbus was able to help a very large distributor. They processed thousands of returns from a variety of retailers, not just a single retailer. Being the distributor, they're the person in the middle between the supplier and the retailer. Their margins are very thin and they have to prove on both sides of what is going on with the returns.
The problem, yet again, is from the manufacturer to distributor to the retailer to the consumer, and back and forth. As it comes back, it's up to the distributor to appease the manufacturer because they have to reclaim their money from them. And if it's a valid or invalid return, they would have to go back to the retailer as well. So their biggest problem was returns and razor thin margins.
So what happened? They had over 5,000 returns per month, and that tripled during the holidays. They had months to process the return, because a lot of retailers now will set timelines for you. So, within 90 to 120 days, if you do not dispute a return back then you have to eat the money. So now they had hundreds of thousands of dollars being lost in unreconciled returns variances because they could not get ahead of the game, especially during the holidays.
How did they try to solve the problem? Initially they added staff to try and keep up with the volume. They added automation to an extent, pulling some data back and forth for them. Eventually, they came to iNymbus and asked could we develop robots for automation, to smash Amazon, Walmart, Fry's and the likes of return credits against them. They weren't prepared to believe in the technology, but they said, "Let's do a proof of concept." Not only did they want to reconcile the returns variance, but they wanted to take advantage of the end-to-end process where they could actually automatically upload it into the portal. So the robots can take it to a certain part, but they wanted to really compete with the volumes that were coming through from the likes of Amazon and Walmart.
How long did this take? First there were a few conference calls with iNymbus wanting to go through the painful process. We needed to envision what the team was going through. During these calls the iNymbus team records the whole process. After that iNymbus went back for a month and came back where they specialize the returns variance processing robots. There wasn't one bot that would be able to handle this, there were multiple.
And just to visually show you how this process worked. Before the process, typically retail will come back, AI will fetch the data, perform the manual analysis, go back and forth, navigate it and then dispute the return in the portal. So with iNymbus having documented this each step of the way and came back with bots. So consumers are still going to go to the retailer and the product is going to come back, but now they created a bot that would fetch the data from the ERP systems, pricing from the retailer website and logistics going to the warehouses. Even if they had to pull PODs from UPS or FedEx, they were able to go ahead and do that. The bots were able to automate validation between the systems to making sure they had authorized X, and had received Y. Once that data had come in, another bot would pull it from all different systems and they would now go ahead and do the reconciliation between them back and forth. The final bot, once the variance had been analyzed and data sorted, was able to dispute and upload it into the portal. So you went from a very manual process to a near completely automated process.
Often when people hear about robots, they think it's going to take away jobs. This wasn't the case with this distributor. They decided to go ahead and repurpose the staff that they had. So now the bots are actually plugging the holes. We mentioned that the volume increased threefold, but they didn't have to put in three times as many staff to do that. It did free up the staff to work on more analytical and rewarding tasks that they were able to do and figure on root-cause issues, instead of having to deal with the volumes of data. So it was a win-win, not only for staff, but for the distributor as well.
The benefits of robotic process automation, or RPA, which has been the buzz word for the last 3+ years. A lot of I.T. organizations talk about robotic process automation. It does improve employee morale. Productivity is increased because you are able to go ahead and meet the retailer requirements including the timeliness. Robots are reliable and there 24/7 if you want them. Volumes increase, they just work a little harder, and the process is consistent. You're able to go back to your retailers and say, "Here are the patterns that we're seeing.
It's not invasive technology. It's not a whole new ERP implementation. You'll be able to meet those 120 days, 90 days, or whatever those timelines are. And it's a low technical barrier. You don't need experts in Oracle or experts in SAP to really help you use bots. And the robots are accurate. Often when teams are tired, there may be errors for key entry. But because the bots are doing validation and pulling data from systems, there is no room for much error and accuracy is definitely much higher.
This holiday season, the bots are the only ones that will be exhausted and not the A/R team. The A/R team can focus in on time for the holidays with the family. They don't need to work the actual overtime. They don't need to stress about coming in January the 2nd thinking about how are they going to deal with the volumes of returns that are going to be coming back.
Let's talk a little bit about robots as a service. Robotic process automation typically is just a repetition of the actions that are performed by your team. It's taking away the mundane data entry tasks. And the robots combined with artificial intelligence are your additional team behind the scene. So instead of hiring three times the number of people, you have a robot and typically one bot can do the data entry of six humans at the same time. And that's what results in robotic process automation.
A lot of companies trying to build their own RPA projects and often accounts receivable is part of those long projects, but often not the priority. It's always the sales and marketing that are a sexy part of the business, so they often may be able to use bots on that side. And building your own bots, you need to have the knowledge and often I.T. will have to outsource because they're not the experts. They're going to have to go ahead and hire the experts. They're just not experts on return variance analysis. Your teams are the experts on the returns variance analysis. These large I.T. projects often need to go through multiple committees to do the return on investment and the justification. Often these are large multi-million dollar projects and it takes time to actually complete, if it ever does get complete.
RPA done bottoms up is what I've seen as a best practice. Take one process, find bots and specialists who already work in that space. Reduce your risk of a huge project fail. Prove the concept. It's a quick win, but you have to look within your organization and your department to see which process needs the greatest assistance and the value. Basically just pick one, work on it, if it works prove the concept and move on to another. This is a much easier to take to a CFO or VP of Finance, say, "Let's just try this out." If it works, great. If it doesn't, no harm, no foul.
iNymbus robots level the playing field. The return bots only exist to do one thing, which is to resolve return variances, and they don't do anything else. They will just go ahead day in, day out, month over month, year over year, and resolve those return variances. Your team can now spend the time to figure out root-cause analysis, whether it's a specific warehouse, whether that's a specific store that's abusing your returns policy, and so forth. And it's done at lightning speed. Often the bots can actually do the reconciliation and deny it before the deduction is taken, depending upon the terms offered to your retailers.
iNymbus has been doing this for three or four years now. Schedule a demo of what the robotic process solution is. They have several engines that they can talk to you about. Assess whether iNymbus will be able to meet your business need, and determine the bot integration points. Put them side by side to see if there are any other experts in this space. If that's the decision you move forward with, put the bots in place to automatically do your returns variance analysis. Since your team is constantly putting out fires, let the bots do the work for you so that you can work on more strategic areas.
Some final advice on robots. Focus on your department and your issues. Today we are talking about returns variances, but focus on what specifically your team is crying out for help on. Implement those specific problems because there are disconnects on the forward logistics and there's disconnects on the reverse logistics. Figure out what those are. Don't try to resolve all your issues with a large outsource RPA. It could take years. With the distributor we talked about earlier, it took them months and they were able to reap the benefits immediately.
Don't be fooled about an all-in-one accounts receivable packages. SAP is out there, Oracle is out there, and they have bolt-ons on there that claim to do everything. But in reality, they don't. They are a repository for the data, but are they really using RPA technology to help your team, and to help the company to bring money back into the organization. And an A/R processing industry is key. Your team is experts in this area. iNymbus has a sole mission to help companies like yourself, to get back everything that they can with the technology they have, and bring money to your bottom line.
For a PDF copy of the presentation slides or the written transcript, with our compliments, please enjoy a PDF download of "How To Eliminate Returns Variance Processing!"