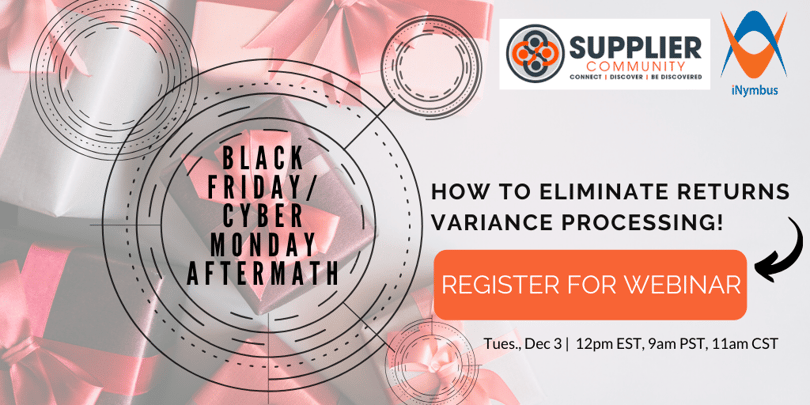 Please join iNymbus and RVCF for our upcoming webinar entitled "Black Friday / Cyber Monday: How to Eliminate Returns Variance Processing!" on Tuesday, December 3 at 12PM EST (9AM PST, 11AM CST).
For a sneak peek of the webinar, watch the short video below:
As we round out the fourth quarter, it's the worst time of year for supplier & manufacturer A/R departments. Along with skyrocketing sales on Black Friday and Cyber Monday, comes astronomical levels of returned goods. And with that, retailers inevitably take back revenue on returns via whatever automated process they employ.

This leaves the good people of A/R to slog through mountains of data to determine if the retailers returned the proper amount of items at the right price. And our long-suffering A/R folks must utilize the retailers' systems to dispute these returns, sometimes, one-by-one.

But there is another way! Let iNymbus show you how to calculate returns variances automatically and dispute thousands of returns in minutes, and, save the holidays!
Join our webinar sponsored by Supplier Community with presenter Rohit Patel, Credit & Collections Expert and Consultant.
Attend and learn how to eliminate your returns variance problems for good! You won't want to miss Black Friday / Cyber Monday Aftermath: How to Eliminate Returns Variance Processing! on Monday, Oct 7 at 2PM EST (11AM PST, 1PM CDT).