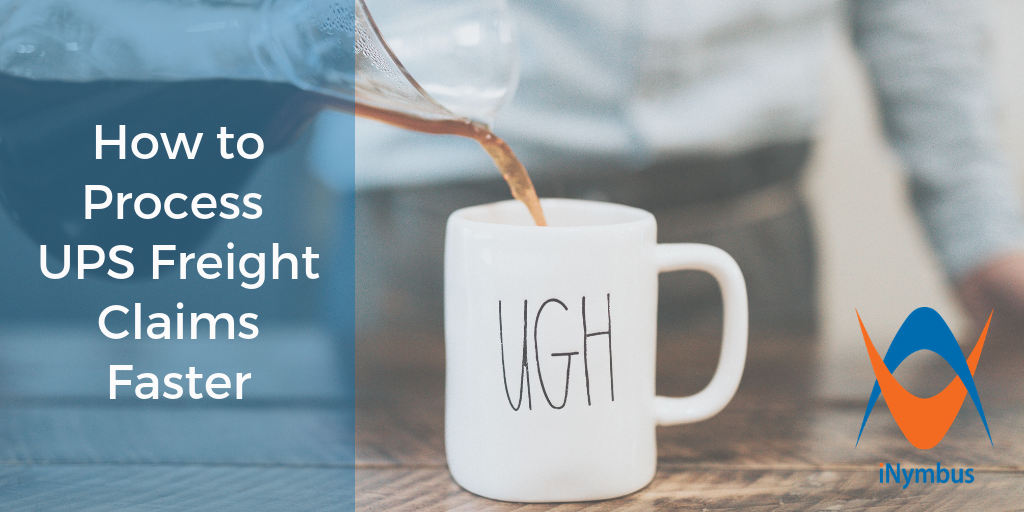 To fully grasp the pain distributors and suppliers feel dealing with the day in and day out of chargeback, deduction, and freight claim processing issues, iNymbus periodically turns to our customers and asks a "real person" to walk us through examples of manually processing an overcharge. This gives us real insight on the struggle, and more importantly what we can do to improve the painful process using our cloud robotic automation technology.
2021 Update: UPS freight claims are a source of frustration for teams who are using manual processes. Learn more about UPS Freight Claim automation below.
In one example, we watched as a Credit Research Manager at D&H Distributing filed a tracer on a typical freight claim from Walmart, which in his words, is always "loads of fun." The back and forth of locating and copying information found in the email from Walmart, D&H's intranet system and invoice, and the UPS website is incredibly time-consuming. In addition, the manual nature of the mundane task leaves room for human error, not to mention the many errors and roadblocks that occur with UPS as a result of their buggy system.
Does it really have to take nearly 15 minutes to process a single freight claim? No! iNymbus was able to help D&H, which has now automated the below steps and permanently solved many of its freight claim struggles. Since implementing DeductionsXchange, they have been able to reallocate capable staff into more valuable and enduring paths, such as focusing on the actual root cause of the problem to help reduce chargebacks from occurring in the first place.
If you're interested in the "pre-iNymbus life" and the roadblocks of someone actually manually processing a lost package freight claim from Walmart with UPS as the carrier faces, check out the play-by-play below. If you already relate to the hassle and want to know how D&H Distributing fixed it, check out our case study:
The Manual Freight Claim Process with Walmart and Lost UPS Items
1. Our distributor receives a standard email from Walmart, in one of a couple of possible versions. The information provided in the email includes: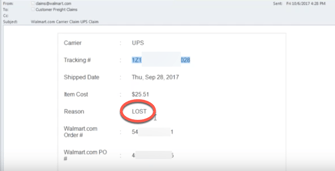 The carrier (UPS in this case)

The carrier tracking number

The ship date

The cost of the item

The reason they are claiming it (lost or damaged)


2. The reason for the freight claim is first determined. In this example, it's a "lost" claim (vs. a "damaged" claim, which comes with an entirely different set of issues.) This tells us what type of tracer needs to be filed within the UPS system.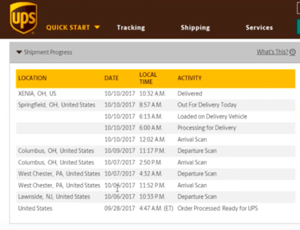 3. Now, we can look up the tracking information via UPS.com, and see whether or not the item shipped from the warehouse and had multiple scans associated with it, and rule out a "no-scan" (an item with no additional scans in the UPS system, which we cannot file a tracer on and would once again, follow an entirely different processing path)
4. The next item needed is the invoice number. Note, the email from Walmart does not include this information. To locate it, we go back to the email, copy the UPS tracking number, and look it up within the D&H intranet manifest screen. From here, we can make sure a credit has not already been issued. Assuming it has not, we power forward.
5. Back in the UPS system, interestingly enough, the logical "Report Claim" button works only sometimes, and the other times, an error message is received. The other way to get to the correct screen is by going to the Customer Service tab and selecting Delivery Issues.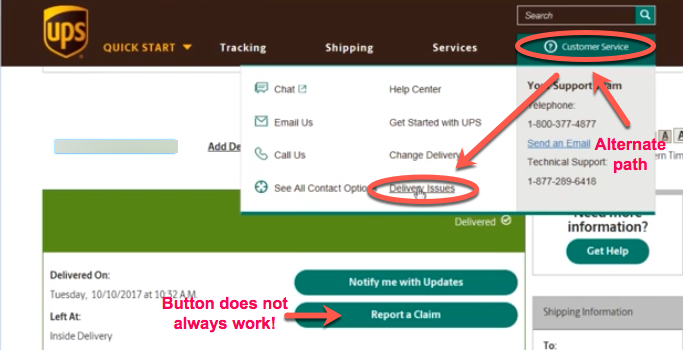 6. Now we're at the claims reporting screen. Information that needs to be entered here inludes the tracking number, who the shipper is, and the type of problem, in this case, "the package is lost."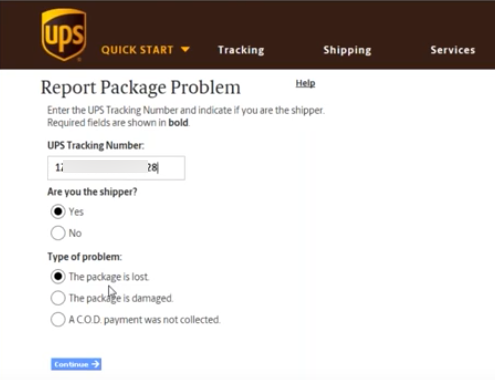 7. On the next screen, Shipping Details must be entered:
Email from where item was shipped

Phone number of shipping recipient (back to the intranet manifest screen to find this)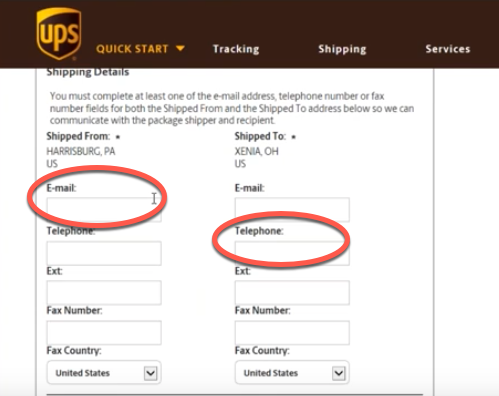 8. Make a selection for Type of Loss, click Next


9. ERROR! Some required fields were not completed!
The reason for the error is because UPS does not provide us the fields to complete the additional information when we were on the previous screen. Sounds more like a UPS system error than a user error.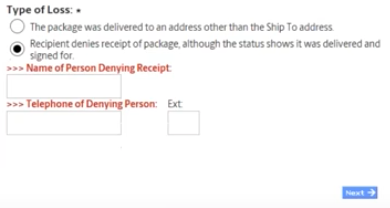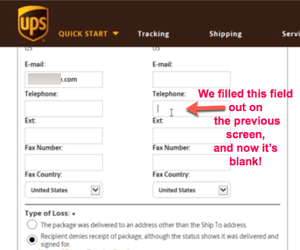 10. We press on by entering the name of person denying receipt and their telephone number. Returning to the Intranet system, we pull this from the "Ship To" information. However, we can't click "Next" yet (unless we want another error message), because the phone number of the shipping recipient (which we already filled out on the previous screen,) has been overwritten and is now blank.
11. We fill this field out, once again, and now we can continue.
12. On the next screen, we enter the following:
Number of Packages Received

Detailed Merchandise Description (back to the email from Walmart to get this) However, make sure if the description has any special characters, to remove them, as they will cause the UPS system to error out. In this example, the inch symbol in Apple iPhone 7", needs to be deleted to avoid an error.

Number of items (head back to Intranet manifest screen to find this)

Cost/Item (again, back to Intranet manifest screen)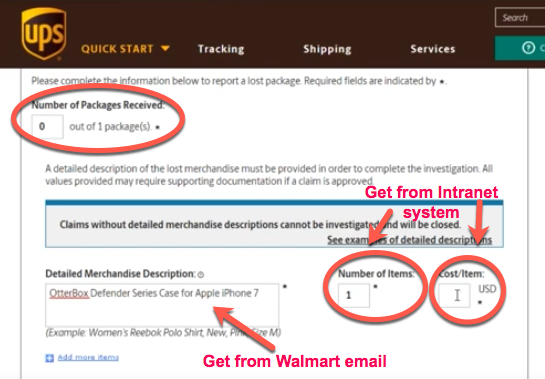 13. Fill out Additional Information - we know by now to enter "No replacement sent to customer" because this is a question UPS likes to come back with and ask later. We also complete the following fields:
P.O. Number (found on Intranet manifest screen)

Shipper Reference Number (found on Intranet manifest screen); this is the internal account number for Walmart. Entering this gives us an indication when UPS eventually responds, as to which customer the response is for.
14. We persist, and provide UPS with more information: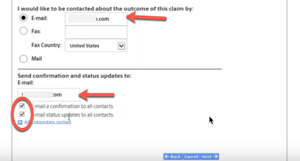 Email we would like to be contacted about the outcome of the claim by

Email to send confirmation and status updates to

Select "email a confirmation to all contacts" and "email status updates to all contacts" buttons
15. Finally, we can select "Next" where we view a summary screen. After double checking the information, we "Submit" and the tracer will be reported. Now we wait. UPS takes 8-10 business days to review and respond.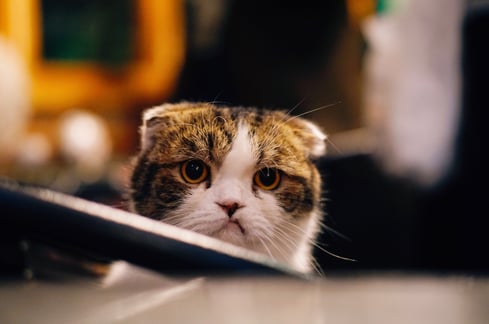 Wow, that sure was fun to write about. Can you even imagine being the poor processor whose job it is to actually do this day in and day out? What was that accounting degree for anyway?
All of that very interesting back and forth interaction for just one type of claim! And at any given time, our customer had about 1,500 freight claims pending to be completed. iNymbus now helps them process up to 500 per day. Let us save you time and money too.