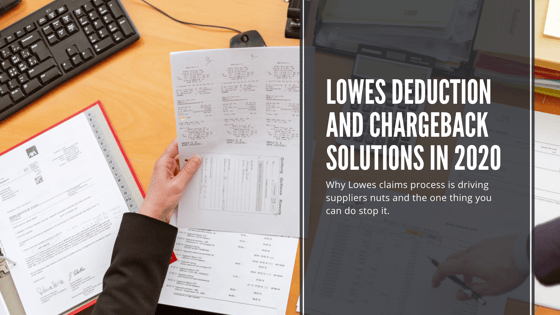 We're diving into Lowes deductions, the frustrations around their deductions processes, and what you can do to significantly reduce time spent redisputing claims.
Where Lowes Deductions Start
Disputing deductions across your customer portfolio requires some knowledge of how to best work with retailer portals and processes. Lowes is no exception with ambiguous codes and disputing loops.
Lowes deductions can come in many forms, typically falling into the category of shortage, compliance, or pricing claims. Below is a list of deductions commonly processed from Lowes:
PR = Pricing for SKUs Invoiced does not match PO Pricing
QU = Quantity for SKUs Invoiced does not match Quantity received
BO = Both Pricing/Receipt for SKUs Invoiced not matching to Pricing/Receipt
UM = SKUs Billed on Invoice does not match SKUs in system or vendor fails to provide SKUs, could result in quantity pricing or both.
PO = Lowes Purchase Order information (Items, quantity, and pricing) for clarification.
Disputing any of the deductions above is tedious, requiring your team to gather, match, and submit documents. Manually working between multiple systems (Accounting, Sales, Warehouse) and multiple trade partners (retailer, shipper, distributor) requires dedicating staff to this process. Collaboration tools may help your team better communicate but is still heavily reliant on manual processes.
The Challenge
Suppliers receiving deductions from Lowes can often find their claims in a loop of statuses between Review, Lowes, and Resolved.
Prior to iNymbus, many customers found Lowes resolved a claim only to pay back a fraction of the deduction. This leads to redisputing claims again and again in an attempt to get the deduction paid back over the course of months.
This constant need to monitor, follow, and reworking claims without a deduction automation solution is a drain on credit and collections staff, not to mention the real impact to cashflow. Many teams either end up collecting a back log of deductions or writing off the amount.
Automate your Workload
iNymbus streamlines the dispute workflow for your credit teams by being the first line of defense against Lowes deductions. RPA (Robotic Process Automation) technology is used to automate the document gathering process and Lowes claim submissions are automatically complete, freeing your staff to focus on more important areas. When the deduction is partially paid, our bots can automatically resolve claims for the remainder of the original deduction.
Enabling your team to tackle Lowes deductions at scale scale starts with equipping them with automation tools to resolve deductions without manual input. We invite you to schedule a walkthrough of our deductions solutions to determine how we can help you today.