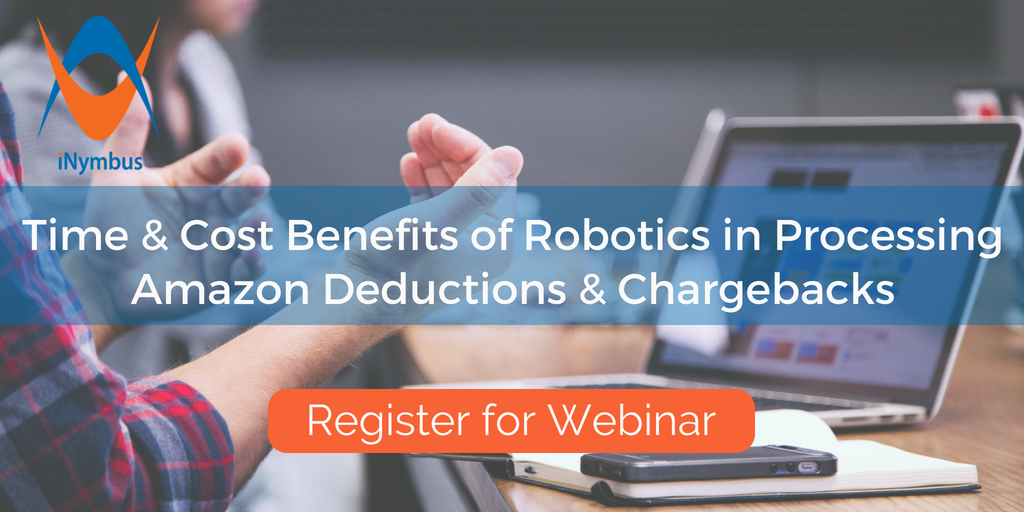 Amazon spins deductions and chargebacks back at suppliers at an enormous rate and volume. The problem gets complicated as they have the ability to do that at the level of line items of invoice and PO. This combination of rate and volume puts a tremendous amount of pressure on departments to resolve them.
Editor's Note: This blog post was originally posted in 2018 and the frustration with chargebacks and deductions is more relevant as ever. Click here to learn more.
In our upcoming webinar, you will learn why robotics is a friend and co-worker that takes away all the pressure of time and cost from the department and lets the department go about their operations smoothly and timely.
Presented by Rohit Patel, Credit & Collections Consultant at iNymbus, Patel has extensive experience in the Credit and Collections arena with long tenures leading the credit and collections teams at Sony Computer Entertainment America, Warner Bros. Home Entertainment, and ResMed. At these companies, Rohit's expertise includes the development of strategic plans that led to improved financial operating results and successful global ERP implementations, as well as other process and system enhancements that led to increased efficiencies. Rohit believes that technology will play a critical role in the future of credit and collections and is always looking for cutting edge technology that disturbs the norm. Rohit has a degree from England, enjoys traveling, and spending time with him family.