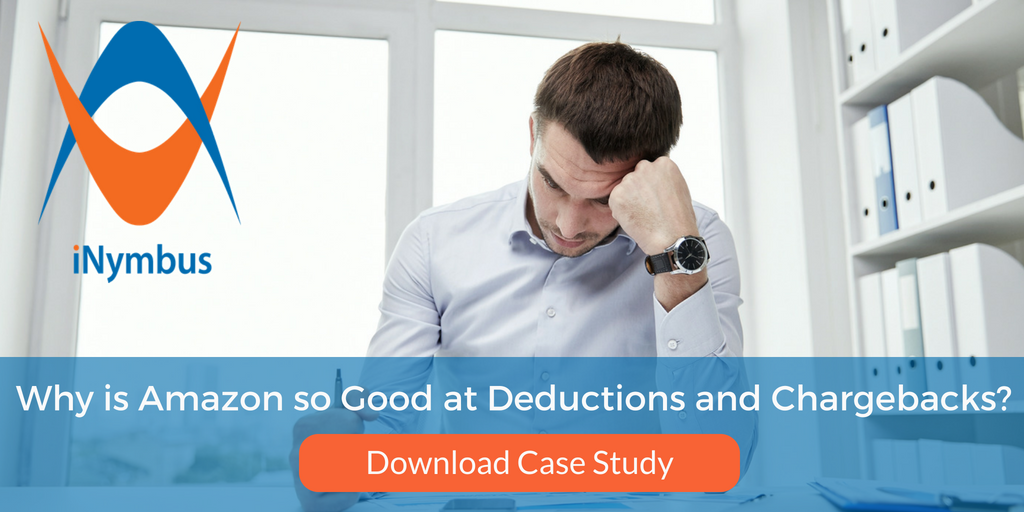 For suppliers, manufacturers, and distributors, working Amazon deductions and chargebacks creates departmental pressure, is tedious and time consuming, and does not seem to be worth the human capital. The reasons are simple:
Editor's Note: This blog post was originally posted in 2018 and the frustration with chargebacks and deductions is more relevant as ever. Click here to learn more.
Amazon's ruthless ability to apply deductions and chargebacks has reached unprecedented levels and speeds.

Volumes are high because Amazon accepts disputes only at a line item level.

This explosion of line item level work puts tremendous pressure on departments to get transactions sorted and resolved within Amazon's window.

Amazon can raise deductions and chargebacks continuously 24 hours a day.
Amazon is, simply put, a machine. Amazon uses robots and systems to maximum effect and no amount of human capital, whether it be departmental or outsourced labor, onshore or offshore, can counter Amazon speed.
Example: Manual Amazon Resolution Process
It requires 8 clicks in the Amazon portal to get to the deductions screens before working them.

Another 8 clicks to start working them.

5 separate data entries to submit the dispute.

To make successful data entries you have to get the correct product details and ship dates which will require accessing different systems, let's say another 5 steps.

If Amazon requires proof of delivery or bill of lading as evidence then you have to access the shipper or warehouse system to retrieve these. That's another 4-5 steps.
Time to File Claims and Your Cash
Due to sheer volume, most accounting departments fall behind. For example, on the last day of the month, the clerks are just beginning to dispute claims received the last day of the prior month. Even in an extremely efficient organization, deductions received in one quarter are processed in the next quarter and invalid deductions or claims are sent back to the customer the following quarter. That's easily two quarters after a deduction is initially received from Amazon.
One would surmise that Amazon has a mountain of cash from hundreds of thousands of sellers who will never file chargeback claims, haven't gotten around to filing chargebacks claims, or have pending chargeback claims under review from Amazon.
Apply Cloud Robotic Automation Against Chargebacks!
Our research dictates the following four components are essential in processing chargebacks automatically:
Internal document/data extraction programs
External document/data extraction programs
Organizing engine
Upload engine
Learn how the above approach brought a book distributor's Amazon chargebacks to zero, and freed their accounting department to work on real company problems, rather than just pushing paper between their system and Amazon! Download our Case Study PDF.