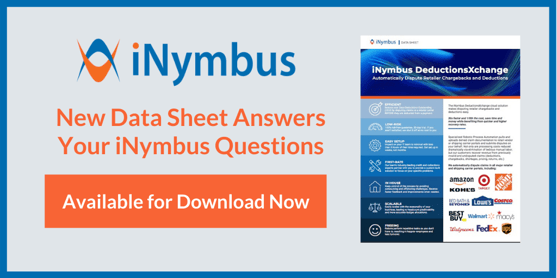 Still unsure exactly how the iNymbus cloud-based service works to ease the pain of processing retailer and shipper carrier chargeback and deduction claims? We have recently created an easy-to-understand data sheet that summarizes everything you need to know about automating the claims process.
The data sheet provides an overview of benefits, including improved efficiency, easy setup, scalability, low-risk, and higher recovery rates. We also round up some key points to tell your IT team.
Our customers come from a variety of industries and we can automatically dispute claims in all major retailer and shipping carrier portals. We can even reduce your Days Deductions Outstanding (DDO) by disputing claims BEFORE they are deducted from a payment.
Download the new data sheet below, or find it on our Resources page.