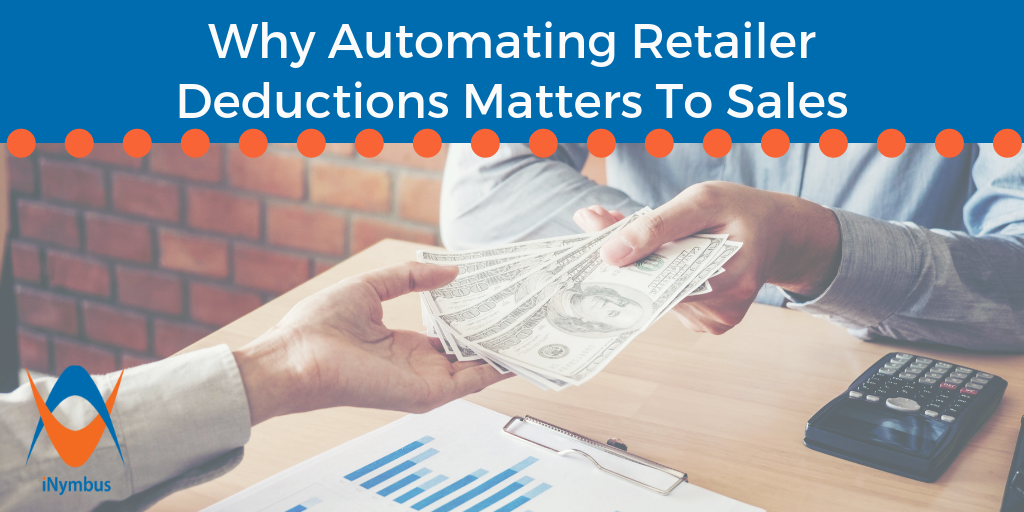 While we know retailer chargebacks, deductions and shipper claims are a burden for manufacturer, distributor, and supplier A/R departments, but what about other areas of the business? This blog series examines why streamlining chargeback and deduction processing with automation matters to other departments as well. First up: Sales.
Why Automating Retailer Deductions Matters to Sales
1. Spend Your Time Where You Want - Selling!
As a Sales rep on a national or major account, if your company is constantly getting a specific type of deduction, you are likely going to want to help solve the problem to avoid spending hours of time meeting with your A/R team examining each deduction to determine which are valid or not. This means identifying frequent deduction types and working with various departments to resolve. For example:
ASN (Advanced Ship Notice) violations may require sales working with the EDI team to assure ASNs are being generated in a timely fashion so deductions are avoided.
Shortage deductions may indicate a warehouse issue that could require investigation as to why the warehouse is shipping short.
Regardless of the deduction type, the last thing most sales people want to do is waste time with A/R agonizing over deductions when their time could be better spent selling.
2. The Company's Loss is the Sales Rep's Loss
The greater the deduction volume, the greater the drain on the organization in both bandwidth and profit. A sales person's interest should be in revenue generation, because sales is generally paid on the profit they are producing for the company. If a particular account is costing the company money by constantly delivering excessive deductions, sales should be concerned as this may make it appear they are unable to properly service the customer. The result should be even more concerning as this would likely negatively affect the sales rep's paycheck.
3. Your Customer, Your Problem
Most sales reps are either encouraged, required, or incentivized to help solve the problems on the accounts they work on. On many levels, it's the responsibility of sales to know the good, the bad, and the ugly of their customers processes. And if they help fix the ugly and the bad, the result will likely be more of what they really want: sales.
4. Job Security
If an an account continues to be a problem and the company isn't meeting corporate profit objectives for that particular customer, the general theory for most organizations is to either discontinue business with that customer, or change the internal process in order to pull the account back into the acceptable net profit range. A Sales rep on a sizable national or major account such as Amazon, may only have a single account. If your company decides the retailer deductions are too burdensome or are costing the company too much in resources or profit, there is risk they may decide to drop the account. AND the sales rep who worked on it.
An excellent solution to the retailer claims and deductions issues many manufacturers, suppliers, and distributors face is technology, which can be implemented to automatically dispute deductions quickly and effectively.
Posts in this Series:
If you are interested in learning more, please view our case study on our customer Whirlpool Corp. to learn how iNymbus is automatically processing their shortage deductions for Amazon, Home Depot, Lowes, and other retail partners!